Texting And Driving Accidents
Texting and Driving Could Result in Punitive Damage Claim in Accidents Causing Injury or Death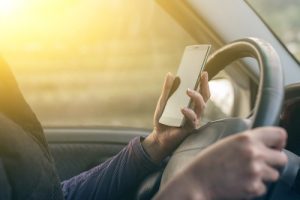 Distracted driving is one of the most common causes of vehicular accidents. Texting while driving is now the leading cause for these types of events. Sadly, most of these accidents end with one or more people being injured because the driver who was texting had no control to avoid the accident.
What To Do When Involved In An Accident
If you have been involved in a vehicle accident, the first thing you will need to do is notify the police and seek medical attention. Gather as much information as possible from the scene by taking pictures or asking witnesses for their personal information. If your injuries will not allow this, write down what you remember as soon as your condition is stabilized.
After you have received medical care, you should immediately contact a West Palm Beach car accident attorney. You will need to protect your rights as a victim of an accident. Do not give any formal statements, written or oral, to the insurance company until you have spoken with an attorney.
Your personal injury lawyer West Palm Beach will make represent your case to the insurance company on your behalf to ensure that you are treated fairly and receive all of the medical care that you need to make a recovery.
Smith & Vanture is a leading personal injury law firm that can aggressively represent your case and protect your rights as a victim of a car accident.

Special Considerations For Accidents Involving Texting 
Many times, courts allow claims for punitive damages in accidents involving texting and driving. If you or someone you love has been injured in an automotive accident that was caused by someone that was texting and driving, you may be eligible to claim compensation for damages, including medical expenses, lost wages, pain and suffering and possibly punitive damages.
Call our office for a free Initial consultation. There are NO FEES or COSTS unless a recovery is made for our client. Contact us today (561) 684-6330, toll free at (800) 443-4529 or online at www.SmithVanture.com