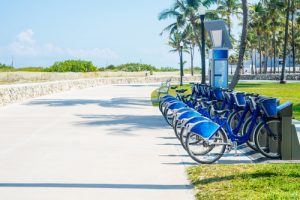 As a bicyclist, you have as many rules of the road and laws to follow as motorists. In cities that are as busy as West Palm Beach, it's imperative that you do everything by the book to avoid accidents and injury. Even then, you can only account for your own actions, not those of other motorists, business owners, or pedestrians.
Wear Protective Gear
One of the easiest ways to protect yourself in the event of an accident is by wearing protective gear while bicycling. A helmet that properly fits your head is a necessity. Knee guards and elbow guards are also nice to have because they cushion your fall if you're knocked off your bicycle.
What to Do If You're Involved in an Accident
If you find yourself involved in an accident while biking, the first thing to do is to stay calm. Do not move if you're injured until a trained medical professional can assist you. If you aren't injured, get up and move your bike out of the way of traffic.
Then, start to gather as much information as you can about the accident before calling the police. Even if it's only a minor accident, make sure to file a police report. You may find that you're injured far worse than you imagined after the adrenaline leaves your body.
Finding the Right Lawyer to Handle Your Case
When looking for a bicycle accident lawyer in West Palm Beach, give Smith and Vanture a call. The personal injury and auto accident attorneys have years of experience helping clients who have been injured in bicycle accidents. Having access to a knowledgeable and qualified attorney during your time of need is valuable.
After all, there are many things an attorney can provide that you can't on your own. Here are some of the services that a bicycle accident lawyer offers to clients who have been injured by someone else's negligence: a free consultation, years of knowledge and experience dealing with the law, regular updates about your case, professional legal advice, and support dealing with what you're up against. Hiring Smith and Vanture to file your claim. Contact our office today to schedule your consultation.