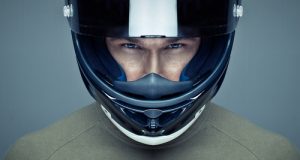 Riding a motorcycle without a helmet can be extremely dangerous. In the worst of cases, a rider may die due to their injuries. Other injuries that could result from not wearing a helmet can include:
• Head Injuries
• Facial Disfigurement
• Loss of Sight
• Damage Muscles
• Bone Fractures
• Road Rash
According to Section 316.211 of the Florida Statutes, the law requires motorcycle helmets for riders. Furthermore, all helmets must comply with Federal Motorcycle Vehicle Safety Standard 218. [Deleted some language here]
Exceptions to Florida State Statute 316.211
Section (3)(b) of the statute states a person over 21 years of age can ride a motorcycle without a helmet if they have insurance coverage with a minimum of $10,000 in medical benefits to be paid if the rider sustains injuries as a result of a crash while riding.
All Children Must Wear Appropriate Headgear 
The law also states all children under 16 years of age must wear protective headgear on a motorcycle. A list of appropriate headgear for children and adults can be obtained from the Department of Highway Safety and Motor Vehicles.

What is the penalty for not wearing a motorcycle helmet in Florida? 
If caught not wearing a helmet in Florida and not meeting the minimum requirements for insurance coverage, you will be charged with a non-criminal traffic infraction. This offense is punishable as a non-moving violation.
If you are injured in a motorcycle accident in Florida, you will need to hire an experienced personal injury attorney. An attorney with motorcycle claims experience will help you get the compensation you deserve. If you need a motorcycle accident attorney in West Palm Beach, you can contact Smith & Vanture. Smith & Vanture are West Palm Beach personal injury attorneys who will gather the facts of your case and help prepare a case that results in the best outcome possible for clients.