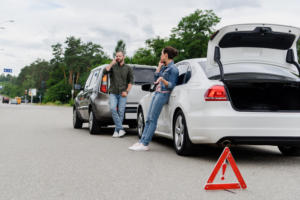 Sideswipe accidents, which occur when two cars heading in the same direction collide side by side, may not look like much. Damage to the vehicle is often minor and unimpressive and looks like everyone inside should have been fine. The seemingly minor, low damage impact can often hide significant injuries; insurers may downplay the injuries sustained in this type of accident, simply because the cars just don't look that bad. If you are in a sideswipe accident, you may sustain significant back or next damage but not get taken seriously, simply because the cars look okay.
Why do Sideswipe Car Accidents happen?
Sideswipes happen most often because of distraction or driving tired (or under the influence). A driver that is texting, reading and looking at a phone instead of the road could easily drift into your lane, causing an accident you just can't avoid. A driver taking medication or who is under the influence or tired may weave into your lane as well, eventually causing a sideswipe accident.
Most modern cars are equipped with safety features that protect the front and back of the vehicle; airbags, bumpers and more are in place to keep you safe. The sides of your car don't have that kind of protection and could be putting you at risk. A rapid stop and the side to side motion typical of a sideswipe accident can lead to back, neck or head injuries and should be treated seriously, even if there is not much damage to the vehicle.
Drivers that are distracted or in a hurry can easily swerve into your lane and may be impossible to avoid if you are surrounded by other vehicles. If you have been in a sideswipe situation, a personal injury attorney can help. By understanding that a seemingly minor accident can have devastating consequences and acting quickly to protect your rights, your attorney can help you put this accident behind you and ensure you are treated fairly by all involved.
Contact Smith & Vanture if you have been injured in a Sideswipe Car Accident
Smith & Vanture have handled a range of personal injury cases, including helping clients seek claims against some of the biggest companies in the country. If you have been seriously hurt recently, contact our personal injury lawyers today for a free initial consultation. We can offer you an honest assessment of your claim.  Free Case Assessment: (561) 684-6330