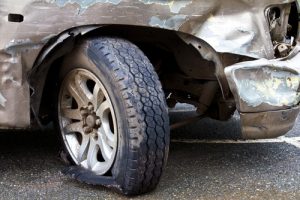 Most people don't spend a lot of time thinking about the tires that are on their cars. People usually assume that the tires that they buy will provide many miles of safe traveling. Unfortunately, however, sometimes even brand new tires will blowout and cause accidents. It is a sad fact that every year thousands of accidents are caused because of tire blowouts. And, many of these accidents result in serious injuries or even deaths. If you have been injured because of a tire blowout, you need to talk to a West Palm Beach accident attorney to find out if the manufacturer produced a faulty tire.
Tire Manufacturer Liability for Blowouts
There are many reasons why a tire might blowout. Sometimes the tires are damaged due to the driver running over something in the road. However, in some cases, the blowout occurred because of a manufacturing defect. In these cases, the tire manufacturer and others may be liable for your injuries under product liability law. Product liability law makes the manufacturer and sellers of faulty products liable for any injuries that result from their use. However, if you have been seriously injured because of a tire blowout, don't try to handle things on your own. Product liability cases are complicated. Get the help of an experienced West Palm Beach personal injury attorney.
Brian W. Smith and Charles E. Vanture are highly-experienced personal injury attorneys. Together, they have over 60 years of experience at litigating personal injury cases. They have the knowledge and experience necessary to handle complicated product liability cases.
Product liability cases often lead to large settlements so product manufacturers are prepared to mount vigorous defenses to save money. However, Mr. Smith and Mr. Vanture have successfully litigated against some of the largest corporations in the country. They have the resources to take on the "big guys" and win. Don't take chances with your personal injury case.