One of the many things that may pop in your head after being injured in an accident while taking an Uber or Lyft, after a few curse words, is insurance coverage, especially if you were injured.
There are a few different incidents that we are going to cover so you can have a better understanding. To have a complete understanding of your rights, please contact our office.
If you haven't been living under a rock, then you have heard of Uber and Lyft, but just in case you have been living under a rock, Uber and Lyft are similar to a taxi service but more user friendly. They make it more user friendly by providing an app, where you can store your information and find drivers around you.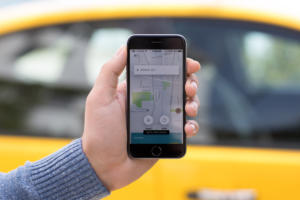 For Florida, Uber started in Jacksonville and made it to Miami, Tampa and Orlando. Yet Uber and Lyft have hit some bumps along the way. As you may have heard, Uber and Lyft have been dealing with people and groups that are against them, one of being of course Taxicabs, but also the city, government and law enforcement. Because they are a relatively new concept, laws and regulations still have not caught up yet.  What's the government's role in regulating Uber and Lyft? Click here to read an article about the government's role in regulating Uber and Lyft in the Washington Examiner. They have been dealing with many issues, but they also have another issue, insurance.
Insurance Coverage for Lyft or Uber accident?
Insurer could deny coverage to the driver, if the diver's insurance says the coverage does not apply, then the driver could be personally liable.
Uber driver's personal auto insurer could cover the accident and extend liability coverage. If no coverage applies, the Uber driver is now exposed to personal liability. What about PIP coverage? There are many questions that apply to insurance coverage. Of course it would be great if they would hold a commercial auto policy, but they are not required to do so.
As you can tell with a couple situations, and insurance issues, a lot of research has to be done to figure out how insurance companies are handling claims with car accidents happening with an Lyft or Uber accident.
Research is needed to see how insurance companies in other states are responding when accidents occur. We keep up with this research. Uber and Lyft are great resources, especially when considering the hassle of a taxi, and we are concerned with the regulations and your protection.
What about Rideshare?
One of the main topics right now are accidents that happen in a rideshare, which is when passengers share a ride to a general area. Lyft or Uber accidents have coverage for at least one million dollars. The catch is how the crash actually happened. The driver actually has to be on duty, but even if they are waiting for a passenger, they can still be covered. While coverage varies and comes with many stipulations, it is important to call us to determine your specific situation and how you can get the most coverage for your Lyft or Uber accident.
Whatever you do, please talk to an attorney before you talk to an insurance company about your Lyft or Uber accident. The insurance company's job is to pay you the least amount of money, we want to make sure you are taken care of during your time of need.
Anyone in southern Florida who has a personal injury legal issue pending should contact Smith & Vanture, LLP for a full free injury claim evaluation. Always retain an attorney who can get you what you deserve for your injury.